Security of construction sites
We offer a complex system of mobile fencings for provisional applications. The fencing panels in the system are made of welded wires that are subsequently galvanised. We deliver a complex system together with all mounting accessories and concrete supporting bases. The system can be easily tailored for the customer's needs and requirements as well as quickly and efficiently mounted and dismounted.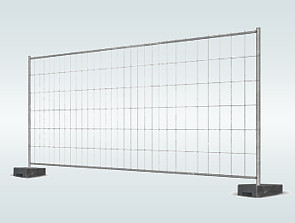 Welded panels up to 3500 mm in width and 2000 mm high. Mesh sizes: 100 × 300 mm.
The panels are made of wire 4 mm in diameter. The panel frame is made of galvanized tubes with a diameter of 38 mm for the vertical tube and 27 mm for the horizontal one, which ensure a significant stiffness of the fencing.
The panels are ended in sharp vertical end-pieces up to 40 mm high.

Other dimmensions avalaible on request.
Surface protection and colors
The panels in the system are made of welded wires that are subsequently galvanised.
A firm frame made of galvanised tube, 70 mm in diameter, ensures a significant stiffness and stability of the whole fencing.
Massive concrete bases used for assembling individual panels of the fencing ensure a good stability of the whole structure. Concrete base weight: 60 kg.
Fixing system, montage accessories
The panels are mounted in massive concrete bases and then joined with each other by means of special mounting clips.
The structure assembled is characterised by a high stability and provides a perfect protection of provisional type facilities.
Provisional fencings for construction sites, roadwork and building work sites, as well as for protecting events and provisional facilities.